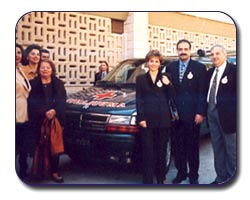 Among the various activities provided by this organization we have annual meeting and presentations by the Lebanese Red Cross and the Official Civil Defense representatives.
A Training camp is held each year where new and old emergency volunteers are on basic techniques in first aid and fire fighting (photos Below).
Rescue Activities:
Transport normal cases ( fractures, doctors, consultation, Radiography)
Transport urgent cases ( heart cases, accidents … )
Insure blood units for people in need in urgent cases and during surgeries.
Insure oxygen for people in need with replacement service assistance and attendance if necessary.
Bandaging injuries and instruct and pursue when necessary.
Keep on treatment for burn till recovery
Give to injure person's crutch and special chairs for handicaps, water mat and medical beds
Insure medecines and treatments.
Insure material and food help when necessary
Make blood examinations
Intensive training course for prime rescue
Training camp for rescue under the civil defense supervision
Constitute an emergency team of 20 members to participate in rescue activities.
The association owns a rescue "Ambulance car" Chrysler 4 W D equipped with oxygen, drawing machine, refreshment machine, electric Modem heart surgery working by electricity and charged communication systems and three mobile phones : 03/325773 – 03/270304 – 03/270092
Extinction activities and Rescue activities
The association owns a fire engin "Dodge" with a reservoir of 10,000 liter 3 equipped with high qualifications completely ready with a full team.
The association owns also water and extinction powder for home and cars fires distributed on different places with the rescuer two anti-fire suits, 3 gaz mask notifying that during summer time the association must buy water extinguish fire. Our fire engine is requested to help the civil defense team even outside the village of Shweir. These engins also insure water for schools and help municipalities in cleaning roads when necessary.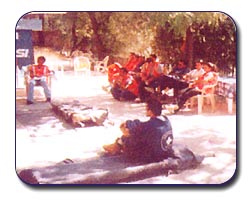 "Let's be equal in Death " Project :
The association owns an old ambulance "G.M.C" mark rehabilitate and actually used to transport deceased people.
The association executes the project of insuring a unique coffin and a team of young people to carry body during funeral ceremony. This is presented for an amount of three hundred dollars or for free when necessary.
Old people resat house project:
The association is studying a building for rest and old people rest house to accomplish the project, and convoke for meeting at the "holy heart school at Shweir and exposed this project to citizens, local associations which are participating in this project.
And actually, after requesting from St. Elias Shwaya Covent. the Archcishop granted the association the Ral Estate 34 at Zeghrine region related to the municipality of Shweir. This Real estate is between the Covent and Yanabii Coffee shop to realize the project.
Acontract is concluded and signed with the Archbishop to accomplish the project as soon as possible without limited duration with the complete readiness of Archibishop for help.
A map study began, by charging a sworn surveyor, the architect salah Nohra acheived maps and issued a lisence from the technical bureau. A final lisence was issued from Shweir municipality under No. 279 dated 25.07.2002 . The office of Mr. Wael Abou Chacra " Horoth consulting" presented an economical study about the project. Actually, we are on th epoint of starting buildingby collecting granting.
We are exposing the reality that nobody could ignore: the association is contributing in rescue activity, extinction and blood insuring in more than 400 cases per year.
Knowing that the administrative board is constitued by
President
Elie Jamil Korban
Secretary
Gladis Salah Barakat – Bou Saab.
Accountant
Georges Habib Abdel Nour
Consultant
Alissar Ataya – Zogheib
Vice President
Therese Chemali – Abou Samra
Treasurer
Loulou Bou Samra – Khneisser
Consultant 
Sabah Al Nemri – Moujaes