The president of the Municipality of Shweir.
Pursuant to article 1 and followed of the construction code issued by degree No. 148/83.
Pursuant to the technical examination No. 1222 dated 6/6/2002.
The license is delivered to St. Elias Shwaya Covent for Grec Orthodox at Dhour Shweir to build buildings Bloc A to Bloc E constitued by first, second, ground floor and one underground, first and second with balconies and brick roof according to the enclosed maps.
Pursuant to the enclosed report issued by the high Council of Civil organization No. 64 dated 8/11/2001 it's rescued to receive old people on the Real estate No. 34 at Zeghin Real Estate region included in Shweir municipality.
In the condition of applying building rules, and enclosed maps and the special following provisions.
1) Use natural stones in 60% of the faces.
2) Use red brick in 60% of the last roof.
3) The lisence is delivered on two steps; the first for the higher floors and the second for the other floors. Afilter for used water must be insured in case of the absence of a public general drain next to the Real Estate.
4) To plant about 150 trees in the Real Estate. the lisence is delivered for a duration of 4 years starting from 25/07/2002 till 25/07/2006.
Shweir on 25/06/2002
President of the municipality
Nabil Ghoson
Opening House of the temporary retirement Home in Dhour Choueir
Minister Merhej, Deputies mayors, and other officials in addition to local citizen attended the ceremony
The rooms are well equipped for the confort of their tenants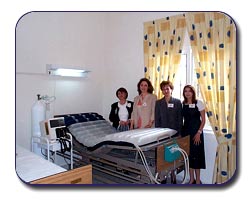 Special bed for the Elderly with special needs
Pictured with members of the society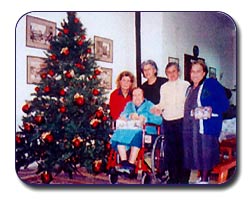 Our First two occupants shown with the administrators